2023 Commencement celebrates largest class, first BSED graduates, and the College's 10th anniversary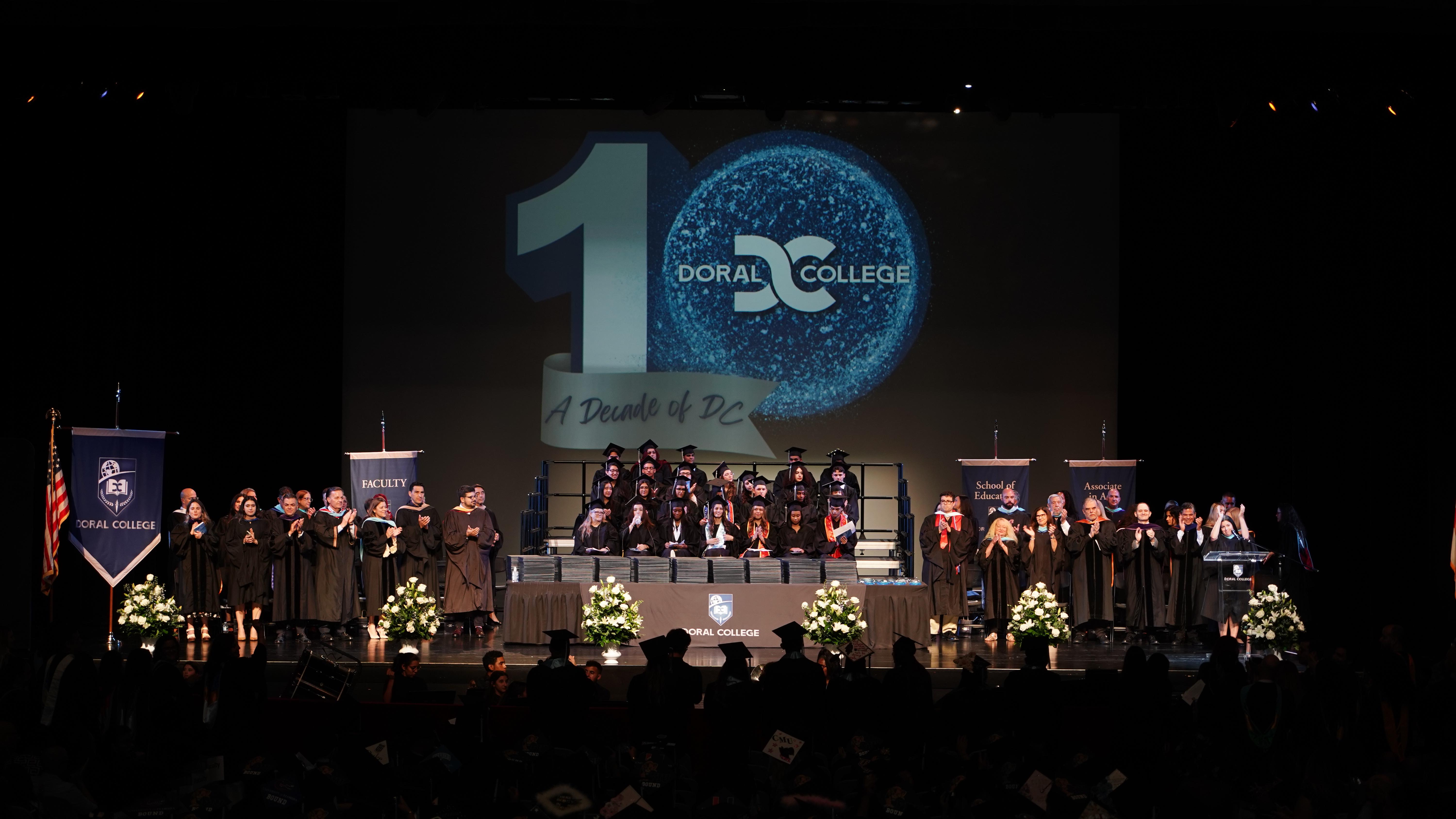 Under the lights of the Miami Dade County Auditorium, Doral College celebrated its 2023 Commencement Ceremony last Tuesday, May 16th. Joined by partners and guests, the College proudly recognized the achievements of 370 graduates. This includes 350 dual enrollment students earning their Associate in Arts degrees – the largest group of dual enrollment graduates to date. They represent 27 high schools in eight counties across the state from Jacksonville to Key West, and are the largest group of DC dual enrollment graduates yet. Collectively, they have been accepted to 87 colleges and universities across the country, and will go on to pursue degrees at institutions including Brown, Carnegie Melon, Duke, Emory, NYU, Johns Hopkins, Northwestern, Ringling School of the Arts, the University of Florida, Florida State University, and the University of Miami. More than half have earned the Florida Bright Futures Scholarship. As a group, they amassed over 8.1 million dollars in scholarship awards.
The College was also thrilled to honor the first class of graduates from its Bachelor of Science in Elementary Education degree program. These 11 students have already been offered full-time positions for the 2023-2024 school year. Nine undergraduate students also earned their Associate in Arts degrees, seven of which have already re-enrolled with DC to earn the Bachelor of Science degree.
The ceremony closed with an epic "hora loca" style segment complete with exciting music, smoke, glowsticks, and even a robot to lead the celebration!
With this commencement, the DC alumni network grows to over 1,000 graduates strong – an important milestone for the growing institution. On this exciting night, Doral College also highlighted its 10 year anniversary, which occurs this year.
Graduates represent the following high schools: COHEA Career and Collegiate Academy, Colegiate Preparatory Academy, Cornerstone Charter Academy, Doral Academy Preparatory School, iMater Academy Middle High School, International Studies Charter School, Mater Academy Charter High School, Mater Academy Cutler Bay, Mater Brighton Lakes Academy High School, Mater Lakes Academy Charter High School, Pinecrest Glades Academy, Pinecrest Preparatory Middle/High School, River City Science Academy, San Jose Preparatory Academy, Slam! Boca Raton, Slam! Miami, Slam! North Campus, Slam! Palm Beach, Slam! Tampa, Somerset Academy Central Miramar Somerset Academy Charter High School, Somerset Academy Charter High School Chapel Trail, Somerset Academy Charter High School South Homestead, Somerset Canyons Charter High School, Somerset Island Prep, Somerset Preparatory Academy Homestead, and Somerset Preparatory North Lauderdale.